Yellow Walls
September 21, 2014
Yellow walls
encompass
girlish fantasies,
lingering beyond their fleeting years.
Floating in the air,
stale.
Ignored and neglected.
Bigger things have taken over.
But not more important things.
Hundreds of stuffed animals.
Not real.
No, they are real.
But not all of them
can share the joy of each other's companies.
Stored away,
in closets or under the bed that used to be
the "big-girl-bed" so many years ago.
Forgotten,
only the dust bunnies accompany the dead silence between the fluffy bears
that have lost their fluff.
Dolls atop the bursting-at-the-seams bookshelf,
long since too full of books,
their soulless eyes so empty,
yet seem to be looking for something.
Something that disappeared a long time ago.
Everything has changed. And nothing has.
That little girl who left so many years ago is still there.
Somewhere.
Waiting to be rediscovered.
She's hiding, deep inside the shell of reality.
But the girl there now,
is still in so many ways the airy-fairy
dreamy
little
girl
from before.
The princess and the knight and the artist and the author and the hero and the girl who would get a Hogwarts letter,
is now
a scholar and a dancer and a bookworm and a girl who doesn't know
who or what she is or what she will become.
A perfectionist who knows that perfection doesn't exist,
Only that it should.
But she's still there.
The yellow walls encompass the girlish fantasies.
And the girl.
Fairy figurines and dolls and the houses they once occupied so happily
still stand.
Waiting for dust and time to tear them apart
slowly,
slowly.
Death will come.
A bookshelf filled with novels about the person she wanted to be.
Maybe still wants to be.
A practical guide to dragon riding.
Faeries.
Wizardry.
Monsters.
The bookshelf now proudly displays trophies of numerous math contests.
The sign of "adult" success
old drawings that she was proud of,
but are now obsolete
and nothing but messy grey lines
on paper that was meant for note taking.
The sound of the moonlight sonata filling her ears from the "old" silver Ipod.
Wishing desperately to hear her father or even herself playing for real on the
lonely black piano.
Cute animal pictures adorn one wall entirely.
They are the dreams of having a puppy.
A kitty.
A pony.
But now she knows that those things are stupid.
Impossible.
Improbable.
She's a realist now.
Everything is logical and practical and sensible and
everything is backed up by facts
like a properly constructed and evidence-filled essay with all the perfect MLA
citations.
She's a good girl.
She's a good girl who knows she lives in a world
that is hopelessly flawed and hideously ugly.
Past redemption and correction and reformation.
But something inside this girl is just like the old one.
She hopes for something that is impossible.
She wishes she could be that airy-fairy
dreamy
little
girl.
Who used to occupy the yellow-walled room, the air humid with girlish fantasies
a pink sparkly fog of happiness
that has dematerialized with the coming of so many layers of dust.
I hope that girl is still somewhere inside.
I miss that airy-fairy
dreamy
little
girl
who didn't care if things were
anatomically or mathematically or mentally or physically improbable.
She had her dreams
and hopes
and didn't care about reality.
Didn't know about reality.
Naïve.
I hope she's still there.
I hope she's still there.
Somewhere.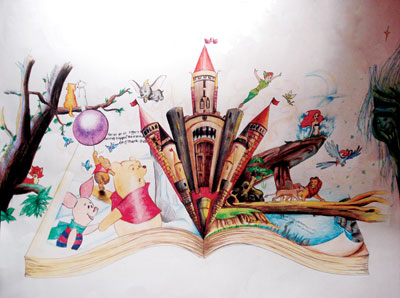 © Shirley L., Chino Hills, CA