The Therapist Said Write
September 26, 2014
Sometimes I feel like
angry words slipping out of a pen
(that trembles in the hand
that clutches at half-truths,
that plague the conscience
of a half-formed youth)
showering and cascading
in a greyscaled rainbow,
in much the same way as a therapist says,
"Writing is good for releasing trauma."
So sometimes I feel like
pent-up frustration
skimming crinkled yellow pages.
And frustration flies
on wings that drag more than lift
(the pen)
so the words become more like
black holes of inkstains --
colliding planets of rips and tears --
mountainous valleys of jagged screams --
in the universe
that is my scrap of paper.
So sometimes I feel like 
an overworked eraser
that fixes mistakes,
that adds another smudge 
to its collection of scars
So sometimes I feel like
a filthy little eraser because
well
no eraser
is ever
clean --
So sometimes
(all the time)
i feel like
(pathetic)
(tainted)
(disappointment)
a writer searching for a euphemism
that covers the thorns
that makes the story seem...
acceptable
(when it's not)
so sometimes i feel like
like
a new word that sums up everything bad
like
carelessstuckupstupidwhycan'tyoudoanythingright
like that
so sometimes i feel
like
i don't even know any more
where i am going
and the words aren't helping
where am i going?
and the words aren't
enough
so sometimes i feel 
like
a whirling supernova of words
aren't even enough
because i can't
speak 
with them
so sometimes i --
God
-- don't make sense --
why
are these words not enough
well
it's probably because i'm
(insert new word here)
and i th ink my pen
agre es
bec  ause      i    t
do esn't wa
nt y   o u
to see
th
at i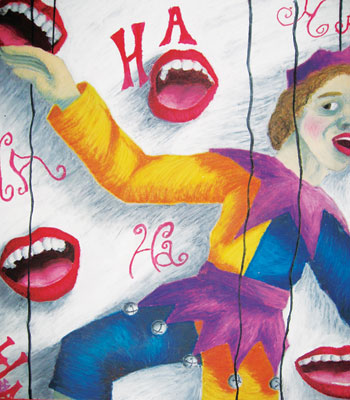 © Carollynn G., Hawthorne, NY