Conflict
September 29, 2014
Sometimes it just feels like
me and my backpack against the world
man vs. man
me vs. men
at least they make it sound like that
1. but others don't think of me as a man
2. I fight against my fathers rules
3. I disrespect the teachers sometimes
we fight hard battles
*and I am brutally against the world
man vs. society
me vs. the world
as far as I can tell, it is like that
4. the world cruelly judges
even the slightly overwieght
and then calles skinny people grotesque
the world has to much "YOLO swag"
and not enough I still care
I am left to battle the worlds affirmation
of my already existing internal struggles and pains
*I am, again, pitted against the world
man vs. self
me vs. I
it seems that way methinks, and I agrees
6. Sometimes I kill myself inside, we all do
don't we?
I mess up once, and slay my pride
then pity.
I try to save it with arrogance
and watch it die in shame
then resurrect it with a good long talk
7. just in time to look completely idiotic again
*I am soundly, internally, against the world
man vs. nature
me vs. what?
Nature?, me?, conflict?, never!
nature is king is nature. 
I could be alive one minute
and dead the next.
nothing that is natural is my enemy
but only my friend
I allow fate, and nature, to be my god
others will worship man-made abominations
I worship fate!
*I am faithfully against the world on that
man vs. self, nature, man, society. bah!
I live to live, and be found unafraid
1. others don't think of me as a man
2. I fight against my father's rules
3. sometimes I disrespect my teachers
4. the world says to be one "this or that"
5. I battle the world's judgement, and mine
6. I punish myself internally
7. I reapeatedly prove myself a fool
 *I am brutally, pitted, soundly, internally, 
faithfully, against the world.
Yet I am strong!
noizthims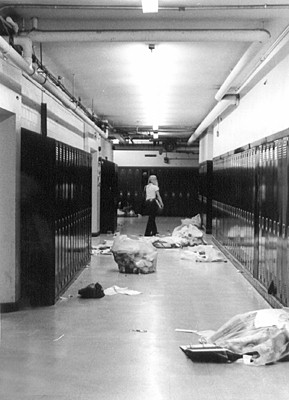 © Halsey S., Marblehead, MA