Almost Eclipsed
MAG
October 18, 2014
these monsters
trace the edges of skulls,
unholy fingers slide over the craters and
in between fresh dents; permanent scars
that speak the promise of faults
and document a fall from more than just
higher ground, the
nebulas became bitter with their passing.
one wrong slip of underlings
and bone chips away at masters' hands,
they clip to the ground, claim
to have drowned under the pressure of
an ocean of broken ankles.
ivory's sick little brother
peels back all that is left, too barren
to be called a skeleton.
damaged organs wither away
without the protection of its cages,
eulogies took a back burner and ran cold.
a prophecy of "dust to dust"
these brains and hearts fulfilled,
they carry no peace.
There is a kingdom that
houses Children of Light.
And Heaven rains truth on their tongues,
graces their throats.
Unjaded vein outlines the crown
of a head to its temple. Untouched.
It follows the path of a shoulder
kissed by collarbone. Pure,
as unimpeachable as, but less naive than
history's lost Juliet.
These soles have never known soil,
but the world knows this celestial body.
It is found on the shores of Hope.
Yes, the world has heard sweet voices
fall like cotton on ash
beside ordinary things.
It can bless the eve
before Eden was lost with
golden vows of scales unturned.
enemies, strong as shadows,
want to win this War with crooked faces;
gnash their alligator teeth
and send all that was ever good
running to the day before time.
There is a great hand
holding up these spines.
There is a great face, an eternal force,
reflecting off these grateful lives.
The War is won.
This skin tastes like victory and
earth is screaming for you to come home.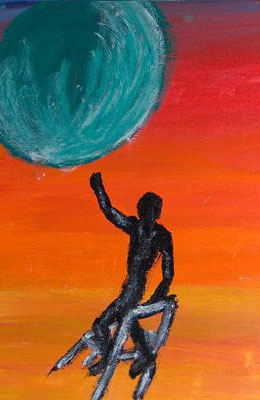 © Maegan F., Harrisburg, NC