I Will Never Be A Slam Poet
October 24, 2014
I will never have the slam poet's voice.
that,
rushing, slipping, sliding, hushing, urgent, voice.
They speak syllables and commas in perfect time,
they have metronomes in their heads.
No.
No, I will never have the slam poet's voice.

But I do have my words.
and those
can speak for me.

They are the music notes, and I their conductor.
I wave my baton with a balletic flourish and they tumble from my mind and lips and sing their silent tuneless songs

They are the small ink soldiers
marching across a devoid expanse of milky nothingness.
But they are not afraid of what's ahead,
because they don't know what's coming.
And I'll tell you a secret:
neither do I.
But they are silent killers,
Just like their master is.

Look at me.
Can you see my legs are shaking.
I've tried to stop them,
but they are one thing I cannot control
Listen.
Do you hear my voice is quavering like a leaf about to fall
My breaths are shaky
(inhale, exhale)

And maybe now that you've seen and listened to me
you'll understand that I'm not a slam poet
but really my words are the minions of my mind
Soliloquizing and monologueing and juggling rainbow scarves on a blank piece of tree pulp that's been bleached and flattened within an inch of its life,
it is their stage.
And maybe now you can understand that the words start here on the page,
And my vocal cords have to work up the courage
not to crack or stop functioning altogether
when I myself step on to the stage.
And just thinking about these words escaping the page
and entering the air through my mouth
is enough to make me feel nervous already.
So maybe now you understand how hard this is for me,
but you know, I've never lost faith in my words,
So maybe I shouldn't lose faith in myself because
me and my words,
we're all the same really.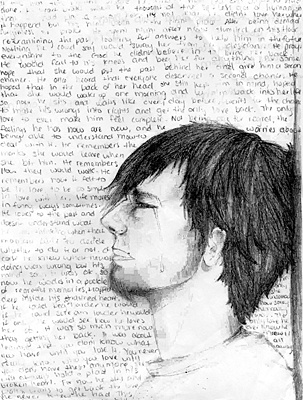 © Annie M., Columbiana, OH