Somewhere Between a Nightmare and a Dream
October 27, 2014
Do these trees not seem familiar,
Just in strange and different ways?
How about the sun reflecting off the water
Reaching out with golden rays?
I keep feeling like I'm dreaming
And I don't know if I want to wake up
I take a long and steaming shower
While you wipe the mirror and apply your makeup
Outside the day is gray
And the grass keeps growing;
Slowly growing;
Cars rush past road kill on the road
Still life keeps on going, going, going, going
A farmer tends his field
While a banker tends his bank
A painter paints a song
Even though he's drawing a blank
Someone's dying of a broken heart
Someone's dying of a dying heart
How could we measure or compare pain?
Even if we could- well what would we gain?
I keep feeling like I'm living
And I'm not sure if I want to die
We take off our clothes and climb in to bed
But instead of talking with each other- well we lie, we lie, we lie
I had a nightmare last night;
There's still steam on the mirrors
You had to wipe it just to see;
You were wiping at your reflection
And all that was staring back
Was me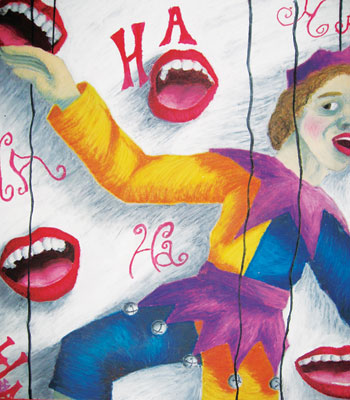 © Carollynn G., Hawthorne, NY