Desire
November 3, 2014
I once was a sailor,
braving the seas of desire.
I was young and I was stupid—
oh, how I regret it.
The waves, they numbed me.
The wind, it soothed me.
I thought all was well and good—
I was very, very wrong.
Desire is a lying, vengeful thing.
I learned this with pain that still stings.
I thought I knew what I wanted—
but by the sea I was blinded.
I was rocked, my will was swayed.
I thought no one could give me aid.
The sky was dark—
and so was my heart.
And then I saw with wond'ring awe,
a lighthouse set upon a hill.
But it was far—
and I was scared.
So I shut my eyes,
the dark was ice.
Then the waves, they took me,
somewhere, somewhere out to sea.
But quicker than my heart could sigh—
I was left alone to die.
Surely in my messed up mind,
I knew how desire could bind,
faster than a viper—
you're never truly free.
I tried my very hardest,
to take the weight from off my chest.
To steer my boat away—
from all the crushing, burning guilt.
Then I felt something on my hands,
and saw that they were iron bands.
I couldn't flee, I couldn't move—
I was a prisoner to myself.
I was a slave of my wicked will,
captured under an evil spell.
Yet my conscience left untouched—
so that I felt every single little cut.
I tried with all I had to fight,
for I knew this wasn't right.
I should be home safe and sound—
not sinking in this sea of sin.
Yet there was no land in sight,
no end, no hint of saving light.
I thought, I felt, and I believed—
that I was wicked in my heart.
My fate was set, my time was up,
consigned to drink the bitter cup.
From me, Hope's saving grace had fled—
but that was when Her light returned.
I saw a radiant, beaming glow,
shining bright to shun the foe.
Once again I closed my eyes—
though this time it was for shame.
But then I heard a voice appear
that pierced me to my very core.
My eyes were opened—
my heart took courage.
That little beam of light,
it led me from my plight.
Yet still I struggled long and hard—
to brave the reefs of penance.
But because my goal was in my mind,
my iron chains I could unbind.
And through that blessed, saving Grace—
I soon docked at Heaven's wharf.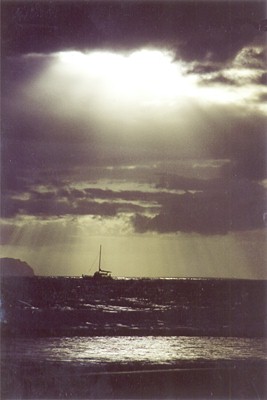 © lily H., Kekaha, HI