The Truth
December 6, 2014
I thought she was better.
I really did.
I went to school happy, wanting to see her
with good news.
Then I saw her at her locker.
Her arm in a cast.
Then I knew.
A boy passed by and asked why she was hurt.
She said she fell down the stairs, but I knew better.
She tried to lie with a smile,
as if I can't tell her lies from the truth.
I had it and grabbed her wrist.
Her face controrted in pain.
I didn't know she was hurt that badly.
Guilt attacked me, and I said "sorry" over and over again,
but I couldn't back off.
"Tell me the truth."
She broke.
"You want to know the truth? I freaking cut myself!"
She finally looked into my eyes again,
with real eyes and real emotions.
"Why?" I asked.
"You tell me, you abandoned me."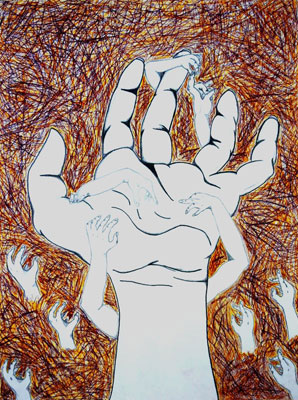 © Ariana R., New Orleans, LA