Soul Eater
December 7, 2014
In the dark of the night, a little girl sat upon a swing
Wondering when someone would want to hear her sing
She sat in the dark, her heart open wide
And all of a sudden began to cry
No fun, no friends, no family to care
She realized how alone she was sitting there
A kind gentle heart was all that she bared
That sweet little girl was lonely and scared
A few years went by and that sweet little girl.
Had been gnawned and impaled by the cold hardened world
Now she sits on that swing all cold and withdrawn
The old self she knew was almost all gone
She watched the sun set and she sang out once more
"This life could`ve been great but I can`t try anymore"
Looking into the darkness, this sweet little girl
Let society change her and shake up her world
This sweet little girl resides within me
I know that she is who i wish again to be
So let the sun come down, drown your sorrows away
Before the moon comes in the darkness
And reclaims your soul for all eternity
Let the sun be bright as it always should be
For when the moon comes again i will take it with me
Society can hurt a little girls heart
And make her believe she wasn`t worth it from the start
There`s a sheild and a mask, never to be unveiled
In society no love or kindess will ever prevail
Every night in the darkness that broken girl screams
Is there hope for tomorrow? is normal all it seems?
Your body and heart are not yours anymore
Without a sheild a mask a sweet little girl
Will.
Be.
Taken.
Once.
More.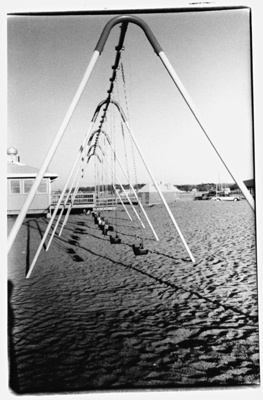 © Gina M., Marblehead, MA