Look Up
December 13, 2014
Heads down, looking at a phone. Heads up, looking at television. Hands are immobile as the heart when the time comes to reach out.
Cities are lonely places. The sky is dark, the streets are bland, for not one smile graces the lips of the many people walking by. There are millions in a city, but each person is alone, in a world all their own.
Bubbles, in theory, are thin, and easily popped by either a finger, or even air, that is how fragile a bubble is. That is what bubbles are supposed to be, but they are not. Today, bubbles are anything but thin. Our bubbles are thick, and hard to penetrate. They are in the form of a cell phone, a car, lab top, or even music. Because of this, reaching out is impossible. Through technology, bubbles become walls.
But there is hope.
Do not ignore that man on the street or that new kid alone at a table. Bubbles may be thick, but they are still bubbles, which can be popped. You can pop your bubble and create a single world instead of thousands, by looking up from your phone, and giving a smile to your neighbor. A smile is all it takes to look up, and change the world.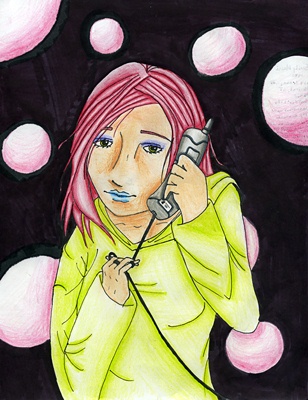 © Emily M., Milford, CT