When Sorry's Not Enough
January 30, 2015
I broke your heart.
I made you cry…
Don't you know that kills me?
In making my mistake, I hurt me
And I hurt you.
They say through your Mercy,
Your heavenly Grace,
Your sweet forgiveness,
I can be forgiven.
My nice white dress
Soaked in scarlet,
Bleeding crimson,
Can be clean again.
But how is that fair?
You died on the cross for me,
You let them drive crude cut nails
Into your gentle, loving hands.
With a crown of thorns upon your holy head,
They mocked you.
You cried in anguish,
"Take this cup from me…"
And bled from every pore.
I was up there watching.
Standing silently, doing nothing.
I watched you suffer for me.
I watched you pay for my failures,
My mistakes,
My weaknesses.
Why did you do that?
Because now, when it's my turn to live,
My turn to suffer,
You don't stand idly and watch me cry.
You hold my hand,
You dry my tears,
You give me strength.
Why?
Why have you done this for me?
You bled for me,
You cried for me,
You hurt for me.
Yet for my mistakes,
For the pain I've caused you,
All I can say is sorry?
"Sorry" can't be enough…
Can it?
How can I walk away unscathed
While you bear my scars?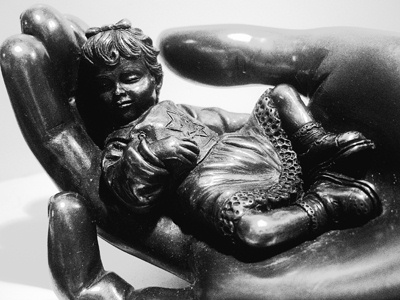 © Dat L., Worcester, MA