Antidote
February 10, 2015
How odd and amazing it is
To think that someone
Who was once a stranger
Is now the reason behind the smile
You wake up with every morning,
To think that his fingers have mapped
Destinations on your body
Where you never new land existed,
That his lips have kissed holy ground,
And his tongue has tasted words from your own
That you never thought you'd get to say?
How peculiar it is
That you can recall the shape of the veins
On his hands
Better than you can remember your parents' birthdays,
And that someone you had never spoken to before
Now inhabits every corner of your mind,
Your thoughts,
Your heart,
The blood pumping in your veins  
He alone has the power to break your heart,
To shatter you into a million
Tiny pieces
With a flick of his gentle tongue;
And yet you tell him everything,
Pouring fears out of your heart like a waterfall,
Trusting him to know the taste of sacred water,
Welcoming the flavor on his tastebuds instead of stripping the river dry.
He could take every organ in your body
And spill your blood on the bedroom floor
If he wanted
But instead he stitches your cuts
And has sewn together all those open wounds
That have stung you for years.
He has become your antidote,
The medicine for your heavy heart and
leaking fears that used to seep through the holes within you:
Holes he has filled with himself -
Holes that no longer exist.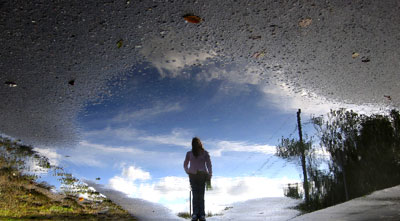 © Daniel H., Oak Bluffs, MA