Unspoken Words
February 17, 2015
A finger slids down the crisp white page
stopping ever so often
at familiar names
and not so familiar names
and then wondering
how they felt, picking up a gun,
how they felt, sludging miles through mud, bugs, and infections,
how much they had enduring in a day that lasted months
continuing on even years after leaving the battlefield.
It makes one wonder,
what it's like to pull the trigger,
what it's like to aim at a human being,
what it's like, when blood splatters,
and people on both sides fall, never to rise again.
It makes one wonder,
how did it all lead to this,
and why wasn't it stopped?
Why didn't the leaders call a truce,
after millions of men had died.
Why were they continuing to fight a war for dominence?
If those in charge had ever pulled the trigger themselves,
and see humans fall, every where-
a grotesque view in every direction
even the usually blue sky draining of colour,
becoming a blank, cold grey.
It makes me wonder,
looking at the number of deaths,
how so many lives, led in so many different ways,
filled with wonders, happiness, tragedy and struggles,
could be contained in a neat book,
filled with creamy yellow pages,
having withstood only a few decades,
and yet having brought so many emotions to entire countries
when being read.
History teachers taught about propoganda, 
the twisting of truth to the public to the minority's advantage,
and that makes me wonder.
What did the families of the dearly departed,
really know about the life of their beloveds,
on the other side.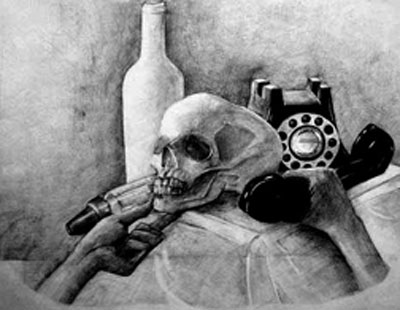 © Xiao H., Naperville, IL