Praying for Peace
February 14, 2015
Stars may twinkle outside,
but cannot be seen through the blinds
the moon may shine
but I may never know
as I lay in bed
trying to sleep like a good girl
I can't help but think of too much
I think of my day
surfing the internet
laughing at the little things
but what does that amount to?
I think of the breakfast I had
after being scolded for sleeping in
still so near school 
and the time I pushed my little sister away
leading her to tears
unsure of my actions
but couldn't stop,
or could I?
At those times, I think too much
my mind is too active
sleep refuses to come
sending me into spirals of confusion and eventual despair
I had not accomplished anything.
There would be 80 or so years before I died.
I may only be 16,
but in the future I would mourn for youth as I see the middle aged around me complain now
with their wrinkled faces with skin stretched after years of life.
My day was a waste
simply stumbling around
doing whatever was available
never getting any real work done
knowing all traces of me would be gone; forgotten
in a few simple centuries,
probably even less.
Then I think of life,
full of regrets already
wishing to apologize for something years ago
but never did.
I remember the people 
leaving who promised to stay in touch
but eventually faded away.
I think of my life now, how long it would last
how completely different it would be in just a few years
and the friends I have now leaving so soon
after graduation, them moving on in life.
I think of how different I would be.
I shut my eyes,
trying to calm my overactive brain
wishing for sleep to come,
all the while despair wrapping around me
as unwilling, hot tears slid from my eyes.
Wishing for sleep to come, to forget the night ordeal in the morning.
Knowing it would haunt me.
Wondering, when would it stop.
If it would ever stop.
As the period ends yet another thought.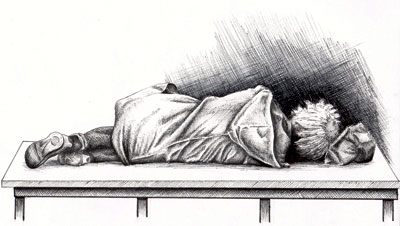 © Devin N., Sherrills Ford, NC