When You Make a Writer Fall in Love
February 25, 2015
When you make a writer fall in love,
she falls from her brain.
Hearts are for folding come February 14th
and for kisses
and for making all her organs
seem to rise up at once
as if commanded by a charismatic conductor.
When she falls, she falls head first.
What Rom Coms never told her
was the best part of falling;
how slow it feels.
How memories can be replayed
like a mixed tape that never skips.
All the thoughts she should be having are gone.
Her mind is no longer her own,
and on her descent she will grab onto anything.
The thin ridge of your smile,
the crooked holes on your converse,
the way her left shoulder
and your right press together,
like two buildings breaking down their walls.
Even these cannot keep her from gravity.
When a writer falls in love,
she has so many things to say.
So many thoughts she has without thinking,
forgetting her safety net is gone.
When she really loves you,
she forgets you are an editor.
You get sloppy 12 a.m. rough drafts,
grammatical inconsistencies,
sentences that never even made sense to her.
She is nearing the ground now
and you know even you cannot save her.
She begins to hate the the way
she can't think of anything else.
When she checks her phone
every two minutes,
know the only author she wants to read from
is you.
To own her heart is one thing,
her mind is too much.
Her brain is too far away,
too far to reach a hand to break her descent
too far to even cry for help.
She cannot sit by that one train stop
without the weight of your arm around her,
pressing the nape of her neck.
When you make a writer fall in love,
you create a madperson.
Think Shakespeare with an unlimited texting plan,
all the words she has to write
she writes for you.
She's almost on the ground now
and is running out of metaphors.
You are fire,
you are wind,
you are the polaroid constantly developing in her brain,
you are everything.
She is scared.
Not that the concrete will break her bones,
scared that 26 letters are not enough to tide her over,
scared a 500 page manuscript could never ease
the shards of syllables pressed between her ribs.
She looks in a thesaurus,
but cannot find one word worthy of the way
your laugh dribbles down your chin
like ice cream on a sweltering day.
She's hit the ground now.
You call to her, hold her,
check for any damage done.
She is not bleeding,
but in her eyes you find pain, longing, and hope.
She sees you pleading for her to be alright
but does not make a sound.
A writer has only truly fallen in love
when she has nothing left to say.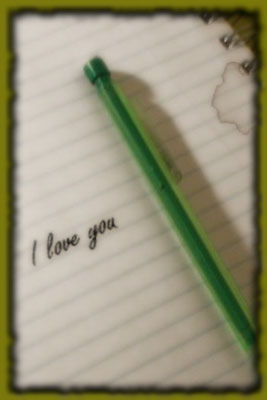 © Rebecca B., Marietta, GA