A Friendship in Decline
March 5, 2015
A chance encounter in the library is the setting of our story.
We were three grades apart but you didn't mind.
I looked up to you as a wise being, even though you were barely thirteen,
But to me, three years was eternity.
When I moved up to the throws of high school, you gave me an advantage that few entering students could boast:
An older friend, a protective comrade who had already scorched by the fires and could help guide me through the flames of an unknown world.

The next year, I am lying motionless on a hospital bed, the loud beep of a medicine bag that needs to be changed making my head ache acutely.
You sit in a chair off to the right, the only person from school to visit my bedside,
And it means more to me than you know.

Next year is better, I guess.
I am no longer bed-ridden, but I am also no longer me.
My hair stops falling out, but it will not grow.
My cheeks are no longer sunken, but instead puffy and swollen from medications.
My clothes still fit wrong—instead of hanging from my body like hand-me-downs, they are stretched tight and show every new curve and roll that my doctor says I'm not allowed to exercise away.
I wouldn't be strong enough to do so even if I had the motivation.
But at least I'm better! People say.
But I'm not. The disease is still there, just managed by medication,
Sitting under the surface, waiting to pounce again and again and again.
I will have this forever.
But I smile and nod and say, Yes. I'm glad to be back.
Yet I don't say this to you.
You understand. You see the lack of light in my eyes,
The force behind my smile,
The small sigh after these inquisitive yet empathy-lacking individuals flit away and forget me almost instantly.
You see. You understand. You put a comforting hand on my shoulder,
Give me a sad smile,
Say, It'll be okay.
And I believe you.

Your final year rolls around and I smile as you show me your senior jersey.
I eagerly invite you to the art room,
You can tell me about your first day of twelfth grade while we paint or draw or make whatever strikes our fancy.
But you can't—you need to meet with a teacher,
Work on an essay,
Tweak a college application.
You walk away, and I feel a crack begin to form.
This small division lengthens, runs a span across the four years of our friendship.
When I congratulate you, hug you through your shiny graduation gown,
It is the first time we'd touched in almost three weeks.
You're in college with a job,
I have a job too and am finishing my junior year of high school.
We text occasionally, meet every few months if we can find the time.
You smile, hug me, speak heartfelt words, and then we go our separate ways once again.
The crack is gone.
It is now a valley, and I don't know how to bridge the divide.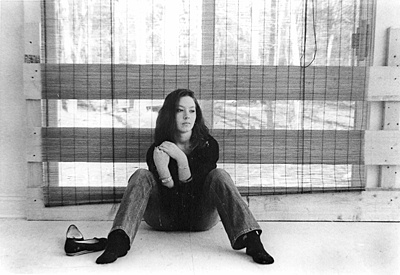 © Crystal F., Marshfield, MA