A God
March 12, 2015
I am a god,
Watch me, I shall make all that you see,
The forest, the sky, see even the sea,
The seeds of love that create me,
A weave, a wonder, a blunder we,
As imperfect perfectionists prefer,
What is clearly visible as opposed to what's under.
Did you see it? Watch, I will show you again, only different.
The black dog walks out into the road,
She looks back and forth and back to the girl,
What is foretold is a load,
too heavy for her to bare,
Why should I care?
Because the white spot is my angel, my love,
My tears which rain from above
on the rain below, a black dove
That never flew, but was crushed and shoved
into the next world, and that poor girl,
That poor girl gave a whirl,
She cried out, a shout
In pain, cringed and doubted
Her eyes and her bout of
Cries left me in tears,
But I fear there was nothing I could do
There, listen closely, once more, like the first,
The green leaves turn red, then brown
As we are all dead and bound
To the same fate, I frown, crowned
King of fiction town yet nothing to do
But hound the readers to pound
A new meaning to the sound of death
The waves gently caress the shore
Sure, its sore enough to abhor another
Caress from the adoring waters that
Pours its poor core more and more
To the shore, hoping for a cure to the
War that it wages against itself,
Cry no more ocean as the door is
Gone forevermore
The clouds roll as its role in the sky
Like some guy ready to die for his
Dull life of taxes and tolls, righteous
Soul of a soulless sigh of a mortal man
Nigh his end, nay his end is his godsend
And cold is his heart now alone, never
Again try to lie to the liar that lies with
The lions, proud to be on the pride.
I am a god,
Every word I write happens,
It's happened,
It is chance that by chance
We missed our shot, at second glance,
we're too late, but look, it's fate
Once more look, for it is not overrated
Prophecy told too late, foretellings belated
A destiny destined to repeat and relate.
It is a world that I wish were untrue
I wish to undo the doings of non-few
that ruin the good few and often new
that flew in from the last life to begin anew
and brew a life that is crudely and cruelly skewed
and screwed with by the witches on curfew
thinking that normalcy is a received cue
by which all should do as others do to
keep order true
And yet one person
One person can destroy it all
make it fall no matter how hard and tall
built to resist the raw forces of nature
built to take on the call of war and law
that all things made will be unmade
no maid can clean this mess I've made
with the world unsaved and unraided
because no one is left in this sunbathed,
sunbleached page of a ravenous rambling rage
that is my heart in spades
I am a God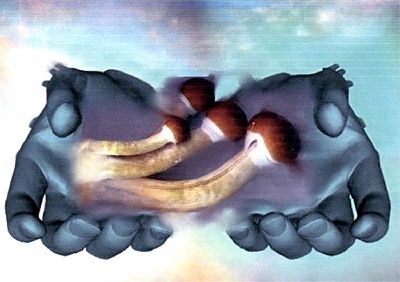 © Brad B., Colorado Springs, CO