Smoked Salmon in Stir Fry
MAG
March 8, 2015
It's that time of the month when you can hear
my brothers' stomachs growling out a countdown 'til payday,
last month's check long lost in my father's whiskey bottles.
So when I stumble off the bus at 7 o'clock and trudge
up the potholed dirt driveway into our home on the hill,
I'm surprised to see Mama cooking stir fry on the stove.
My four brothers stand guard around her,
clinging ready bowls to their chests
and staring with ravenous wolf eyes
at the miracle of food before them.
I send a questioning, wondrous grin toward Mama,
and she shrugs, unexpected relief lifting her up.
"One of the Bible study groups at church had a potluck.
They brought us the leftovers."
My worn pride is scuffed by this charity.
But there's a hungry she-wolf in me,
growling just like any of the four beside me
licking their chops around the stove.
Mama barely starts to step aside,
and the warm dish on the stove is empty
before she can set down the cooking spoon.
We devour the blessing while still on our feet –
inhaling teriyakied rice, noodles, cabbage.
For a while, only satisfied pleasure
and gratefulness hang in the air.
Then the youngest one whispers
a wish for some chicken to mix in.
He says it hushed, more observation than complaint,
yet Mama's waiting ears catch his confession.
And she tells him, chin high, that she added what we had –
some smoked salmon, saved from the summer.
In my bowl, I prod at the pink, flaky attempt
to stretch our luck just a little further.
Mama Wolf keeps her chin up as she watches us devour,
but I can see the hurt from Not good enough
falling onto her weathered, weakened shoulders.
Her defeated eyes wander to the screen door,
searching for that elusive Good enough
in the spot where my father's pickup should be parked.
And she won't turn to see the satisfied eyes of her pups
silently howling that she is good enough.
At least, good enough for something better than this.
Better than having to wonder who her mate
could be spending the night with this night.
Better than having to mix smoked salmon into stir fry.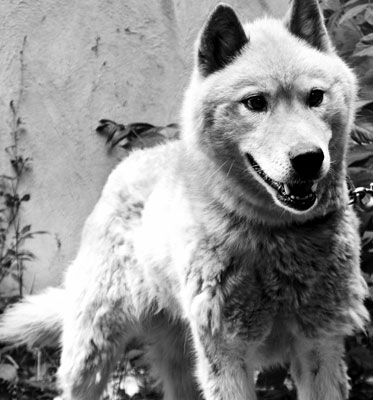 © Mike A., Newark, DE