The Change that Comes in a Year
March 23, 2015
They yearn for their minds to be the blossom of their years.
– Joseph Powell
My counselor used to tell me I was blossoming.
Just like Marie told me when I saw her over the summer
for a weeklong camping trip away from her university.
Just like a comment from Lydia in the spring
when she traveled up from the equator to visit.
Just like Jay told me right around Thanksgiving
before encephalitis and encephalopathy took her mind.
Blossoming, apparently, is not a seasonal process.
Marie had marveled at how I opened,
exposing a deep-cut, stitched-up past.
Lyd raised eyebrows at my juggling
two jobs, life, and a college 4.0.
And Jay's last whisper wondered at so much
growth from the tiny tomboy she once knew.
And I had laughed and unfolded, blossoming beautifully.
Now it's February, spring creeping up again,
and my counselor prods at this withering inside me.
Because I'm opening again
but not in the beautiful way.
I'm opening skin and flesh
and pouring out emptiness,
watching crimson blossom
and pool in hollow hands.
Where are they now? my floundering counselor wants to know,
wondering after those who could cure my shriveling of spirit.
And my fingers can't spread wide enough to touch
those scattered points across the world map,
reaching for the distant sunlight that made me bloom.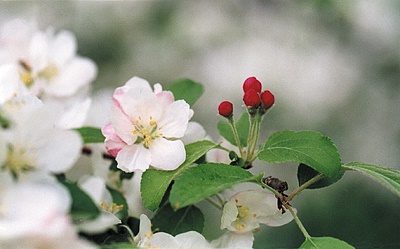 © April P., Newark, DE