What I Remember
May 29, 2015
I remember the fall.
I don't remember hitting the water.
I don't remember waking up.
But here I am, sitting in a white room, wearing a paper gown and a plastic wristband.
I remember being taken here.
I remember the woman's soft, but agitated voice.
I remember the feeling of a scream escaping my lips when we rolled past a mirror.
I don't remember how she got me to be quiet.
I wish I didn't remember my reflection.
The bruises.
The stitches.
I remember the water.
I remember its blue sheen and how it lapped against the steel beams.
It didn't look dangerous.
It could never hurt me.
It would only take me far away from where I was.
That was all I wanted. To be far away.
I remember the noise.
It was so loud.
They wouldn't go away.
Little black bugs in the sky.
But they were too loud to be bugs.
Their red lights told me I was being watched.
I don't remember when they left.
I don't remember if they left.
I remember the wind in my face.
I remember swaying, one arm latched onto a cold, steel pole.
I felt so small.
The wind could have lifted me off into the sky.
I remember wishing it would.
I don't remember taking the first step.
Maybe the wind took it for me.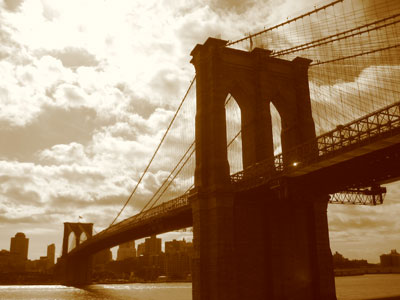 © Andrew M., Brooklyn, NY