passionately
August 18, 2015
passion jumps
into your arms
and
grabs you by the shoulders.
Your eyes are caffeine make me
want more even though I've always
hated brown.
Your eyes are a
seaside dock in front
of a picturesque dawn,
and a tower of bricks higher
than God's spirit.
Your lips are a love
creeping
up those bricks
through the cracks
(Ivy walls)
Hugging my veins.
Your hands are tools
that have seen the magic of the floating
planets
and so
much more.
Those hands see the veins
in a wrist begging for attention 
becasue they know how
important they are;
flowing with the black and white blood
of a poet's love.
All ink-filled branches
leading to a beating
blank canvas
full of the beautiful creations whining
like a dog to be free.
Because you are passion
and your entire being is
poetic.
Invade a tower and build upon its
glory.
Let all those words--
everything--
breathe out of your being
and write
PASSION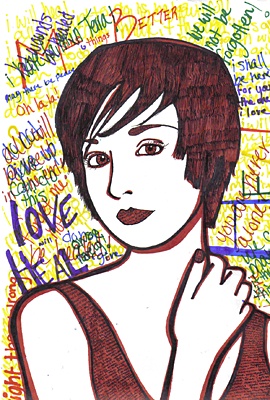 © Sara D., Aiken, SC