The Wood Of Dreams
August 24, 2015

When the angels had drifted into a slumber
And the dreams of the world were all ripe
Ready to be harvested by their folk,
I sneaked into the wood of dreams.
Dark and bright nonsensical grass crept over the expanse
The trees diverse and colored in the colors
Of the rainbow and some heavenly colors
The grass blades each eccentric
Told many an illogical yarn.
I stumbled perplexed
A loving embrace warmed my heart,
It was the tree of love
Whose leaves gave me the vision
Of my crushes, my family, my friends and even faces I couldn't see.
A dolphin sprung from the grass
The little thing lifted me up
Up to the tree of hopes and dreams
I was there with glasses on my nose
And writing my heart out, a writer.
The next moment I had to struggle
Long bony hands of a mummy were pulling me away
The tree of fear stood tall and eerie
My heart skipped a beat
I saw me dead, then alive
Only to look like a big fat hen
Yet worse an orator was shouting my secrets out
And the monsters big and small forced me to leave.
I ran to where the grass was giggly
The funny tree tickled my bones
There I saw my princess running to me
I lifted her veil with love
And a naughty monkey was grinning at me.
I fell off laughing and ran
The deeper trees and the deeper leaves
I couldn't or rather didn't see
Who wants to break the suspense of each night.
Then I drowned into a bowl labelled my name
Fell into another incredible dream.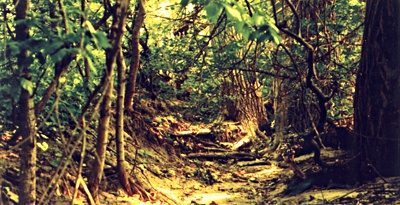 © Dan B., Papillion, NE