And So Ends Summer
August 27, 2015
The grass had never felt so soft against my feet.
More likely, I had probably never taken the time to fully take in and appreciate the feeling.
I had sat in my front yard hundreds of afternoons, but no time was so surreal as now.
I clench my toes, feeling, appreciating, thinking.
My thoughts turn to dreams against the sky, which was fading from a light blue to a vibrant pink.
How many of nights have I participated in the ceremonious setting of the sun?
The number is nearly uncountable, yet every one of them holds something important to me.
A memory, an action, a thought, each playing an important part of who I am.
With what has come so many times, only few remain.
As my significance as an individual in society strengthens, the person who I wish to be diminishes.
Though young, the track of which my cart follows may lead to my own demise.
A blue bug crawls on top of my foot.
As a student, my objectives are clearly set forth ahead of me.
I am to complete and compete for grades and percentages.
I am to climb the ranks of all who aspire to be successful, all for an empty goal.
The blue bug crawls up my shin.
What will come of me amongst completing my education?
A parchment that certifies me to slave away for the rest of my life.
It will soon become so that I will grow tired and weary, unable to enjoy the sunset as I do now.
The blue bug crawls up to my knee.
I lay a finger alongside the blue bug, and allow it to climb on.
As I gently set it in the grass beside my feet again, I softly murmur.
"The grass is a much more enjoyable place than where you were going, wouldn't you say?"
With a short farewell to the blue bug, the sun finally sets, and so ends summer.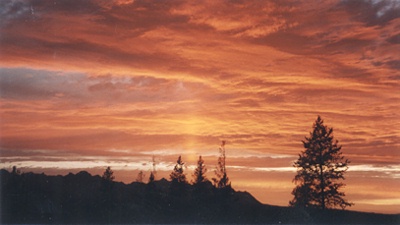 © Katy B., Challis, ID