Perhaps I Will Be GOD
September 12, 2015
I shouldn't like to be an ant,
Work all day, day after day, only to be
stepped on and killed without a second thought.
However I also would hate to be the ant-eater,
Under fire in the desert, sticking my nose in the dirt.
Living off those who are unable to
save themselves from me.
I must pity all these dogs,
who beg at the feet of their master
whether Billy relaxes his hummock
or rolls in his Darbies.
All their souls float away,
Up,
To be judged by Orion.
But I, above all, wish not to be one of mankind,
who will throw away today waiting for tomorrow,
who delves only in things trivial, yet laughs at the Hummingbird,
oh how simple life is!
One who will shoot his brother to save his soul,
who fights a War to End All Wars in the name of Peace,
who taints the very air he breathes, and poisons the water he drinks,
pushing Gaea to the brink of extinction.
Forgive them, for they know not what they do?
Perhaps I will be God.
I will know all, see all, and love all.
And All those who are not who I Am
will be placed together on Earth.
The Birds with the Bees, and the Men with the Monkeys.
And none shall be above the other,
I will wait for the day when Man
can walk the paths of Pan
and feel the pulse of Poseidon. Only then will I return from Orion.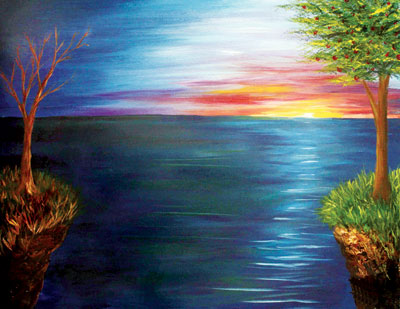 © Ariel G., Moses Lake, WA