The Classroom
October 13, 2015
The heavy grey door is shut,
Its metal handle locking out creativity.
The desks and chairs stand in the room
Like grim, conforming soldiers,
Called to attention as our prison cells.
A vast, blank blackboard echoes the thoughts
Of every student seated at their station,
Looming ominously with the threat of homework.
A clock hangs, condemned, on the wall,
Its hands frozen in time at the exact second
That it ceased to live and function.
The teacher's desk is scattered with odds and ends,
But the decorations give us no comfort;
They only remind us of the lack of colour all around
And what we miss out on while doing our sentences.
The wide windows only provide a sense longing,
As we look at the happy world outside
And suffer hopelessly in misery and solitude.
In forced patience, we wait and wait and wait,
Waiting for the judge's gavel to pound
And cause the ringing in our ears,
So we can finally leave in relief and exhaustion.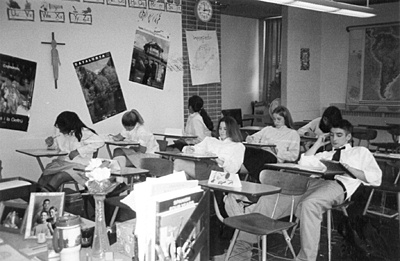 © Fox V., Whitesboro, NY