I have a place for you
November 8, 2015
I've set a place at the table for you
I wonder about you, and worry about you, while I eat
Then when it's time to dump the dishes in the sink with a splash of suds,
I try not to presume too much about what you're like.
It's hard, trying to fantasize about someone you've never met
While also insisting on not assigning them characteristics that may yet be proven false
I do slip up sometimes. It's become a habit to think you'll have brown hair
And a wide, soft nose,
Maybe even a pair of full cheeks I can squish between my knuckles
I am an artist, a sketcher, an observer
I pass the time by observing the lips around me, trying to figure out what kind you'd have
It doesn't matter. I'd love to kiss them anyway.
The thing that I've really left in the wind
Is the color of your eyes
I've read the sappy teenage romance books
And I know the danger of assigning aesthetic value to a single Caucasian color
I don't care what color your eyes are, as long as they're yours.
I've saved a space in bed for you
I sleep on my side anyway, so it's not that difficult
To scooch over just a bit.
I don't know at all how much space you'd need though.
Do you sleep on your side? On your back? On your stomach?
Do you snore, or kick in your dreams? Would you shove me off the bed and hog the covers for the rest of the night?
I wouldn't mind, as long as you didn't really mean it.
If you're earlier to bed than me you should be sleeping now, as I write this. Or maybe something's happened, and you're staying up, worrying,
Like I worry about you.
I wish I could comfort you, and tell you I love you
--Which is ridiculous. I've never met you,
And there's an astronomical probability that I never will.
But I will. I have to.
Because I've carved out a place in my heart for you
It's the one place that no one else can touch,
And the one spot that'll stay clean when the rest of me stains with the guilt and worries of life
I'm keeping it safe for you
So that when you come to build a home there,
It'll be an unsullied, undisturbed plot of lovely real estate
And you and I can start on a blank slate
It will be wonderful, I promise
Our little cabin in the middle of nowhere
Where I'll give you all of me,
And you'll show me all of you
And we'll both wonder how we ever got so lucky
This dream of you is keeping me alive, lover
I need to keep reaching forward for you,
Or else my feet stick to the pavement
And every thought, every memory I've ever wanted to avoid catches up to me.
I guess that means I've put you on a pedestal, lover
I hope you don't mind.
Though, if you're really going to fall for me, you should be prepared for at least a bit of sappy romanticism
Do you dream of me too?
Because then I'd have no cause to apologize
Or do you set the table only for yourself?
Sleep selfishly sprawled across the entire mattress?
Stain every cavern of your heart with everyday feelings, leaving none of it untouched
For me?
Maybe you're not expecting as much from me as I am from you
But this fantasy-you, that holds my hand
And smiles in brief flashes that blind me even in my dreams,
Is just an end goal.
One last, blinking light at the end of the tunnel for me to drag myself towards.
When family, and friends, and passion, and religion all fail,
I hold onto you
My piece of driftwood in the Atlantic
This dream of you only needs to tide me over for a few more years
And then I won't have to sit around waiting for you anymore
I will come and find you
I will search every corner of the earth for you
I might make some mistakes along the way
By the time you sit down at your special place at the table,
You might find the remnants of someone else's meal
And the spot on the mattress where you curl up next to me
May be a touch too warm to have been wholly unoccupied
But it would be stupid of me to settle for someone else
Just because they got to me first,
Before you.
Because I love you, I really do
And I'd like to imagine that you'll love me too
So good night, or good morning, or good day, wherever you are
I'm looking forward to dinner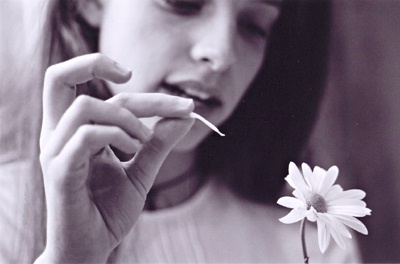 © Emily B., Houston, TX