Paper Kites
November 19, 2015
I am swimming in library of excellence.
every hunched hand is scraping their poor pencils into prestige
tapping keyboards into their memory
they are studying.
I am sitting here,
under a ceiling so big
that it repeats every noise like thunder
with enough room
to hold the heavens,
my mind gets so
lost
in the journey from my notes
to those huge windows
and I wonder
when was the last time I cried?
I introduce my bent spine
to the back of the wooden chair
and blur my eyes
until my notes are just a pile of letters.
damn,
those letters that mean so much here...
I decide to change my studying music
to my old favorite song
our old favorite song,
and it fills my head with you
the peaceful paper kites
Bloom into my ears
and tuck my eyelids closed.
I wonder
when was the last time
I listened to music?
I remember we would
waste time so wonderfully
laying there,
listening to your fingers tickle
the guitar strings
letting the harmonies of
Rivers and Roads
wade in the warmth
of your arms
and the ocean of blankets
I miss that.
I miss when things didn't always have a purpose
and when words came so easily
to my poet pencil
and time was just a thing I danced in
not something to constrict me
I miss when I would feel kisses
with all five senses
and possibly more
when I could tell the story of one moment
with every word in the newspaper
and I'd lay with you
in the poetry of breath itself
it was so simple.
so simple that
it poured one hundred pages from me
everything here is so profound
and pretty
and probably named after one of my professors
And I won't lie,
life is good.
I've laughed and danced
and twirled around in my drunken freedom
but I miss
when coffee
wasn't just for fighting sleep
and when music wasn't
just to block out noise
when kisses weren't just
to fill the space of slurring lips
I want to cry soon
I think I'll do it Wednesday
cause to don't have class till one
I open my eyes and notice the sun has moved on
for the day
and now nighttime is babysitting the sky.
I clean up the heaps of
words in notebooks
and I wonder
when was the last time I really wrote a poem?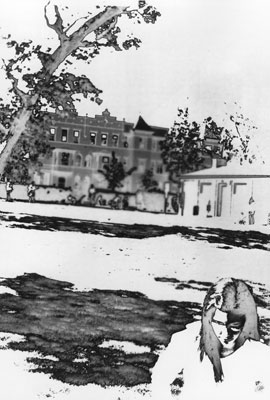 © Simon E., Bethesda, MD