It is Time to Sleep
November 11, 2015
It is time to sleep.
I heave myself into
my four poster
cotton candy bed
and lazily lean to flip
my colorful lamp off.
Crickets are chirping
just outside my window,
willing to me their
nightly lullabies.
I close my seaweed eyes
and burrow under
the silky comforters
like a bear hibernating
for winter.
Heat hits me like jumping
into a hot tub.
It's so inviting and comfy,
I could stay here forever
wrapped in the powerful
arms of warmth,
never to be broken.
A squeak reaches my ears
and then a kiss finds my
smooth forehead.
"Goodnight, my dear,"
Mom murmurers as her
thick red curls tickle my cheeks.
"Sweet dreams."
"Thanks." I mumble
into my raggedy teddy bear,
though I bet it sounds as if
a cat has actually got
my tongue.
The door squeaks again
and I start to sink into
my mattress.
I could fall for days,
never to be disturbed.
A black shadow pulls
at my drained brain
like an eclipse crossing
over the blood moon.
My eyes squeeze tighter
and I think of nothing.
My mind is overcome
as I slip into the grasp
of sleep and warmth.
Everything becomes raven black
as I fall into the endless abyss.
The crickets are no
longer chirping
their sweet,
silent melodies.
It is time to sleep.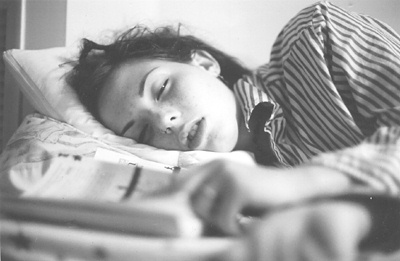 © Rosie A., Lexington, MA