To Be Beautiful
November 18, 2015
You tell me I'm beautiful,
but really I'm not.
I am just another face
in the recurring crowd,
blending in and trying
not to be seen.
I'm plain
and not
special in the least.
How long will you
continue to apprise me
that I am beautiful?
You tell me that
you can show me.
It won't work;
nothing will.
But for some random
reason I let you try.
You bring me to a
lovely lake shining
in the midday sun.
"It's beautiful." I say.
"Just like you." You reply.
"No," I whisper.
"Not like me."
I lean over the crisp
grainy sand
and a massive
red curl skims
the top of the water,
creating soft ringlets
in the smooth water.
I turn the light green
suttleness 
to a dark spot,
a whirlwind to nothing.
My too bright
neon green eyes,
bumpy roads of
puckered acne
and a million caramel
freckles cloud my face.
My tiny nose and
immense ears
stand out like
plaid and stripes.
I can never be beautiful.
I will never be beautiful.
I look up and stare
at the wide stretch
of tranquil water.
I look back down as you
grab my hand and
the water clears.
I see my too bright
neon green eyes
represented in
the gills of
fish beneath me
and my acne in the
grains of sand.
My freckles are seen
in the pebbles
sunk at the bottom
of the lake and
my ears are the
birds of wings.
My nose is
the heart
of speckled Macaw birds.
My hair is the sun,
powerful and bright
To whoever glances upon it.
The sun then
shines a spot on my
face and the water.
My skin warms and
I feel a tug at my heart.
I abruptly feel whole
and perfect,
as if my flaws have
become mine;
mine to keep forever.
Is this what beauty
feels like?
Knowing in
my heart that
nothing can beat me?
Feeling as if butterflies
are fluttering joyously
in my fistful heart?
I stare in awe at
you and the water.
"See, I told you," You say.
"You're beautiful."
I stare at you and
then the water again.
This is me,
and only me.
Maybe I'm beautiful
after all.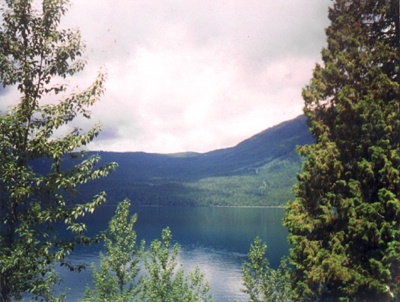 © Chelsie T., Phoenix, AZ