The One Who Gave It All
December 14, 2015
A casket lays before me.
Laid over with a flag.
Red, white and blue.
Red for the blood shed for this Country.
Blue for the bravery of this deed.
White for the purity of his life.
My friend.
A soldier.
Slain in combat.
For our country.
For us all.
America.
His mother and father.
His brothers.
His sisters.
His friends.
The people he knew.
The people he would never know.
The blood on the ground.
His own.
Shed for me.
Shed for you.
Shed for us.
He gave himself boldly.
For another life he died.
Though he knew not who
he fought for,
he lived as if he did.
He gave his all.
He gave his life.
One more soul
who gave us freedom.
Not reporters of the press.
Not the protesters of speech.
Not the preacher of religion.
It is him.
The soldier.
The man in the casket.
My brother.
My friend.
My mentor.
Laid to rest in the ground.
Never to laugh.
Never to sing.
Never to smile again.
Never to hold his woman close.
Never to see his daughter's wedding,
or his Son's graduation.
Because of his blood.
Because of his sacrifice.
Because he gave it all.
Freedom is not free.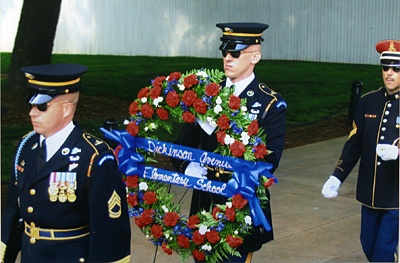 © Alejandra D., Milford, CT