High School
January 29, 2016
Sitting in this library,
but I'm not sure why,
School just grounds me,
holds me down,
when I want to fly.
Every morning is the same,
throw on my chucks,
grab my bag and I'm on my way.
Other students all around me,
just another study hall,
talking about who did what,
and who it was that took the fall.
Sometimes I get stressed,
Sometimes I forget what school's about.
There they are zoned in,
While I'm in the corner zoned out.
I guess you could say I'm distant,
I don't know what I'm about,
I just feel so nonexistent,
When I'm drowning in self doubt.

Here I go from class to class,
watching the people pass by.
Other people freak me out,
I never dare look them in the eye,
for they might see what I'm thinking.
They might see right into my soul.
All they see there is the dark side,
they don't see into my heart of gold. 
Here I am and there they go,
walking through the life we've always known,
Wait for the bus,
step on,
sit down,
stay quiet,
and away we go.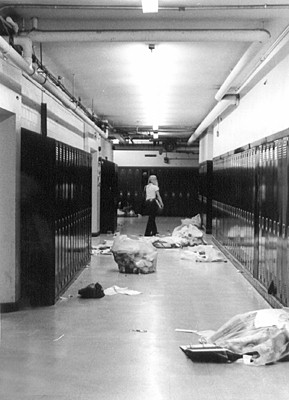 © Halsey S., Marblehead, MA