Angel of the Shadows
February 27, 2016
On a cliff she stood,
The moon of a different world
Gilding her face in haunted silver.
Her arms were spread wide,
Her gaze cast back
Into a place that only exists within her dreams.
The wind sighed against her lips
And kissed the rustling grass of her hair;
Moonlit blossoms rose from the ground
And fell into the sky,
Taking their places among the stars.
Her ebony eyes reflected the midnight shadows,
Glowing in quiet mischief with the knowledge
That fairy tales weren't a fantasy
And flying wasn't a fool's wish,
For wings gowned her in wedding white;
A bride unbound by the alter.
No groom awaited her at the end of the aisle,
Save for a steep drop and soaring flight
That she loved more than any man.
Her lips waxed into a crescent of a smile;
There was no cage large enough
Nor chains strong enough to imprison
The free, fluttering bird of her heart.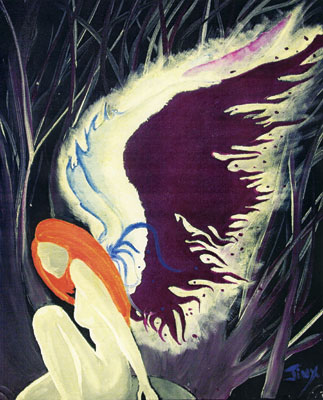 © Megan B., Youngstown, OH