Monodrama: A Sino-American Soliloquy
March 4, 2016
Today's Program

Let's talk about the word
Yellow: a hue of the sun's yolk
          [insert a politically correct comment here]
Let's talk about the color
Asian: an item originating from the continent of Asia
          [pause with a wincing smile, laugh track ensues]
Finally, we end with
Stop: a wishful end wearing red octagonal suits
           [there's no magic eraser for regret]

2nd Grade Anomaly

Why aren't your eyes like that?
Owen said
(Like what?
I said)

He pulled his eyes
to emphasize
simple slits
such stereotypical symmetry
of eyelid-less, iris-less,
hashes of eyelashes
—like a normal Chinese: said Owen.

Assumptions
              
If I'm Asian American,
then I must be a banana.
              
               Your last name doesn't sound Chinese.
It's adapted.

If I speak Chinese,
then I must know what 'ching-chang-chong' means.

               You don't look that yellow.
I guess I don't?
If I crush on white boy no. 4,
then I must be whitewashed.

               When do you go back to China?
I've never been.

If I'm Taiwanese,
then I must be a delusional Chinese.
              
               You think you're Taiwanese?
Yes I do.

If I'm Chinese,
then I must be part of Chairman Mao's legion.
              
               Where were you born?
In Ft. Worth.

If I drink ??? in the evenings,
then I must be slurping monkey brains every other day.

               No, where are you really from?
               My mother.

Like

She tells me
Don't marry a white
Don't marry a black
Never marry a Jap
Promises don't hang on paraphernalia.
Make it worth your ambition.
Then I find myself diagnosed with
'White fever'
a reverse malady of 'yellow fever'
              Mr. ____, you're a perfect figment of a mirage,
              Mr. ____, you're a dream
checking my nonexistent wish list.
Blame falls on
angsty teenage hormones
seventeen years of an Anglo milieu
              Mr. ____, what's wrong with you.
              Mr. ____, what's wrong with me. 
/Marry/Marry/Marionette/

The Finesse of Karaoke Parties

I'll dance with
my sister and cousins
to Michael Jackson and ??? in
any country I set foot in.

Blaring from the speakers,
jumping from terracotta tiles, the buzz
of pot-stickers, scents of grass jellies.
Hi-Chew wrappers become confetti at our feet.

It's a heterogeneously homogenous festival of
'who cares, it's a summer day.'
The half-white neighbors carry
the same pair of bold lungs we all have, swinging
a little brother off of his pixie toes.
Idina Menzel's famous ice queen lines come in
four different accented versions of English.
We all hath eyes, Shylock. We all hath
the same passions and tears. Bellowing
nonsensical Mandarin
into two microphones, rock stars
rattling ancient karaoke machines,
This tickles the nine of us to the agonies
of our protesting stomachs.

We are the world. We are the children,
mouths chewing wolfberries and gushing out
wilder giggles. It's midnight.
Girl. Boy. Either way, we all sound
terrific. We are the cacophonic
cackles, wisps, and wheezes of fireworks
and their magnificent, iridescent
potentials. Such is our choir,
impelling ignition of a warmer fire.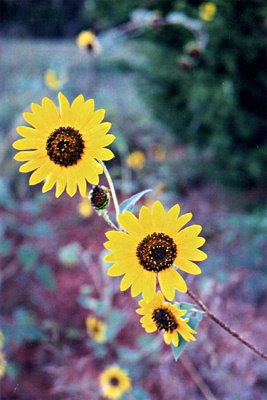 © Megan B., Luther, OK