Gardening Angel
March 13, 2016
She was an angel,
Her features so fine
And her smooth skin so pale
That they seemed to be sculpted
From white marble.
Her wings
(Though no one saw them)
Were there,
Spreading from her back
In feathered purity.
She could be found in the garden,
Playing with the creatures
Of the earth she loved so much;
Her giggles of joy
And sweet, childish voice
Could often be heard singing
To her furry, beloved friends.
Wild blooms of every sort
Were twined into a tiara atop her head,
As if even the plants
Recognized her as their queen,
For she was in every way
A young, beautiful fairy
Flitting among the flowers.
Rainy days still found her
In her favorite spot
Behind the ivied wall,
Raindrops moistening her white dress
But doing nothing to dampen
Her carefree spirit.
She had never been the stone-cold,
Weeping angel
That people thought she was;
No, she was a guardian angel
Protecting and watching over
Her precious garden.
Day after day, night after night
She kept her steadfast vigil,
Never petrified by people's words
That said she could never be
Anything more
Than an ageless angel statue
Standing in an overgrown corner
Of the blossoming garden
And missing the wings
That had broken off long ago
From exposure and time,
For she still smiled
And offered shelter
To creature a plant alike.
She was the life of the garden itself,
The heart of every green growing thing;
She was the irreplaceable:
The cherished Gardening Angel.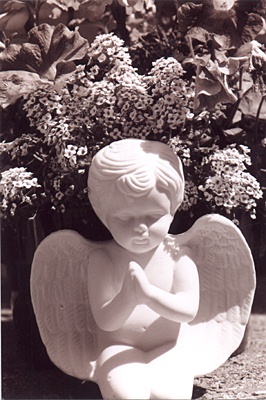 © Laurie T.,Hopkinton, MA