Chess
MAG
July 5, 2016
Maneuverer my fingers across a black-and-white parquet floor;
Where Queen and King reign beautifully
as mythological lore,
Stone, statue faces raised to the moon,
crystallized in the crimson sun;
Where frozen limbs are delicate and ice-cold, poised to run;
Graceful as an ice skater as they sweep in and out of the row of spectators,
Fist raised and iron, steely as metal rain, wielding powers like ten-ton craters.
Move my arm across a blank, white wall;
And paint me a map, edged with green,
spidery hills, the moon entrenched as a ball,
A giant, glittering ball of fire and ice;
Bowling through the little people
in punishment for their vice.
They will whiz through the broken, gray roads, stomachs empty of food;
Gaging the velocity of political mood;
And their mouths will tumble open
in a circle of 'o',
As jagged silver cans rip into each big toe.
Jerk me to action like a puppeteer show,
And jolt my arms and legs to animation, silky hair wrapped up in a bow;
Mesmerizing, presented as leg of lamb,
Sacrificed in the place of a huge, pink ham.
Elongate my sooty, black lashes so they are incredibly thick;
And haul my polished knee as it readies
for a brutal kick.
Play with my poor, wooden body, play
with my thoughts, my ambitions;
Tear them into violent, horizontal shreds; rid yourself of my petitions.
Touch my smooth, straight hair, and stroke
the tiny hairs so they shiver,
Threaten to twist my arm down, hard,
so my voice lowers to a quiver.
And when you are finished with me, place me back into my rattling, brown box;
And wedge the lid on tight, no holes, for I am silver and sly as a hungry fox.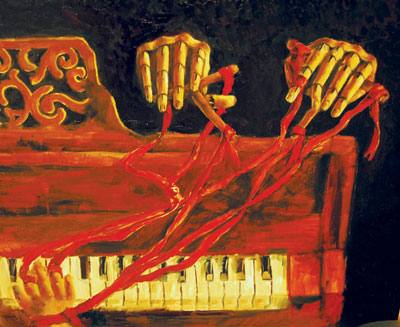 © Bonnie S., Fremont, CA