Pretty Girls
August 14, 2016
She brings the basket around the room i'm nervous what i'll pick I could be such a pretty girl or one that makes you sick. One slip of paper decides if i'm revolting or i'm cute. I just hope all the voices in my head will fall mute. My ears are buzzing my nails i've bitten short people open theirs and others simply snort. Lily is now pretty Casey she's a beast everyone is looking now there eyes have landed on me. I look down see the basket there I take one big gulp my hands are shaking in the air. I must pick a simple piece of paper yes! I must decide pass this test!  The lady with the glasses shakes the basket round "pick now darling" her voice a nazzly sound I breath in and calm my nerves there on the freeway though jumping up and down like a seagull in the snow. My hand lifts itself i'm not in control diving in the basket it's the end of the world! The crinkle of the paper has sweat rolling down my face the drops dripping so fast like it's a race. The sandy piece of paper in between my fingertips I quickly yank it up unfolding so to see inside is a little note and this is what it reads
No paper tells you who you are or what you look to be you make up yourself you choose what others see your insides are what count don't let people tell you don't let them make you doubt your such a pretty girl inside and out others don't decided they don't get to choose you're in control you decided for you! 
I quickly close my eyes the tears now stream from there all this worry for nothing I pull a piece of hair I am a pretty girl but I let them change my mind let them make me think I had to fit their kind but by being who I am I'm prettier now all their bad attitudes causing them permanent frowns.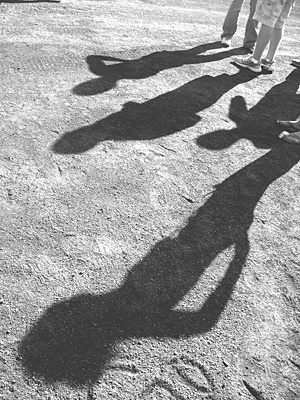 © Trella R., Mountain Lakes, NJ