Mourning Dove
August 23, 2016
Tossed and turned against bed sheets
Feathers, once soft now scabrous
Bitter like drying greenery
Comfort once confident – loose.
What is the purpose of wondering
Breathing and loving and care
What is the meaning of loneliness?
All that there was is a prayer.
Never completely delivered
Lost in the clouds with a dove
Fluttering hopelessly to it's source
Little heart broken by love.
Gravity kept it from fighting then,
Trapped it and through it with might
Like a torpedo it fell and burst
Keeping the victims from flight.
Never completely delivered
Heartache and turmoil in tears,
Waiting and hurting and mourning
The dove and its terminal fears.
Now all you hear is a gentle call -
Wet pools of warmth in you eyes
Building and trapping and mocking you
Listen and drown in the cries.
Purposeless lonely emptiness
Grey feathered hope has betrayed
Sorrowful spreading of apathy
Little bird's mission delayed.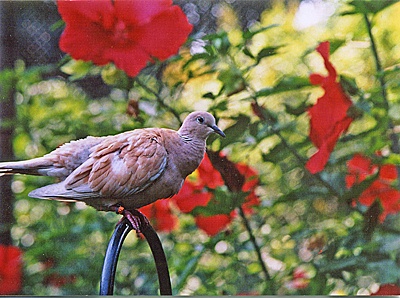 © Charlotte H, New York, NY