The Mother Who Cried for Her Son
August 27, 2016
She promised she wouldn't cry.
She promised her only son
that she wouldn't cry.
Yet as the days and
weeks passed by
and finally that dreaded
day did decide to come,
she cried and cried and cried.
She cried for her baby boy,
All grown up and noble
With a sharp, colorful American Flag
pasted to his freshly pressed suit.
Her feet met his halfway on the
unstable wooden dock;
simple Mary Jane's across
from a set of completely
shiny black dress shoes.
The ship horn blew for a
few seconds and the
seabirds flew away, frightened
by the sudden loudness.
It was just a mere reminder
that her only son would leave
soon and possibly not come back.
She looked down at
the splints in the wood,
unable to meet those sparkling,
wooded evergreen eyes
she'd seen every single day
for the past eighteen years.
A large, tough hand gently
lifted up her soft chin,
up and up and up until
their soft eyes met and
her eyes welled up again.
She began to cry for him again,
a worried mother not wanting
her son to leave her sight.
All over the world he would go,
farther and farther away
from her sad, graying blue eyes.
She was embraced by
his strong, powerful arms,
only held together by
the solid promise that
managed to escape from his lips:
"Mother, I'll be fine. I'm coming home.
Don't worry."
But Mothers always worry.
Everybody knows that.
The ship whistled once more,
a final warning of things to come,
and a fresh wave of tears
streamed from those pretty eyes.
She stood up and kissed
his freshly shaven cheeks and
stroked his newly buzzed hair.
He was doing it for his country.
He felt a calling,
to help, serve, and protect people.
He knows that this is what he
needs to do and how
he wants to live his life.
A noble life.
They hugged once more,
bodies pressed together
and no need for any words.
They tore apart like glue
stuck to paper.
Slowly he walked away,
and gazed back twice,
tall and muscled.
She stood up taller,
and prouder, pressing
down her navy blue skirt
as he finally stepped
onto the ship.
Even though fresh tears
rolled down her blush-ridden
cheeks, she was proud and
honored that her son would
be serving his country.
As the gigantic ship began
to pull away on the icy, sky
blue water, he leaned out
of the small, white window
and waved, his shaven head
Gleaming in the blazing sun.
She instantly waved back,
her red, white, and blue
bracelets dangling in the
cool breeze and smiled, red lips
appearing like flaming fire
in the bright afternoon sun.
"I love you, my son."
She whispered. "I love you."
She continued waving until the
once huge ship became a
blurred pebble underneath
the thick, white clouds
and gradually became nothing.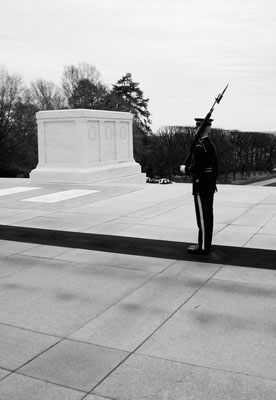 © Jordana W., Harmony, MN