Dates and Dimes
February 6, 2017
The engine of my dirty white truck sputters
down the hilly road
I hear a spuring sound every time, I try to accelerate
Most likely, wasted twelve dollars of gas trying to speed
I was headed to my crushes's home
With my parents out of town it was safe to go
Going to the other side of the city was such an adventure to me
I'm not allowed to go a lot of places, especially this house
My smile was wide during the entire ride
I veered off the road a couple times because I was so nervous, it was hard to concentrate
Butterflies swirled through my upper body
Turning the wheel as I entered the neighborhood
I felt my nerves tightening my body up, and
even more parking in the driveway
There, sitting on the porch swing, was
in my eyes a person whose fairness where beyond my comprehension
Sitting and swinging, I saw a box in those two hands
It didn't have a top, but it was wrapped in bright paper
Was that for me?
I didn't have anything to give in return
The hand motioned for me to come on the porch
I rolled down my window, "Just give me one second. I'll be right there."
"Hurry, I really want to see you." The voice said back to me
Rumaging through my vehicle, trying to find something worthy enough to give
All I could fine was a bag of dates I had boughten earlier, and
hiding in the console were two dimes
I grabbed bothe the dates and the dimes, before getting out of the truck
Isn't it comical how lame this was?
I spoke first, "I'm sorry I don't have a gift great enough to match your greatness."
A look of bewilderment came across that face, as
I handed over a bag of dates and two dimes
I won't forget these words, "Is that why it took you so long to come on the porch? You think you need to give me something? The only present I need right now is you, but I will accept your bitter raisins and pocket change."
Reaching out, the hand ruffled my hair, both of us started laughing
"Wait! Check this out!"
Turning around picking up the box with wrapping paper
I saw there wasn't a present in it, but a puppy
A tiny, latte' brown dog with its eyes closed
"I found him in the gutters earlier this morning, and I wanted to show him to you. I am going to keep him."
My smile started to widen back, as I gently touched the tiny pup
The rest of the afternoon was just wonderful
My crush and I held hands, starred at the dog, and swung on the oscillate
I fed dates into that sweet mouth, and scavenged around for eight more dimes
At least I can try and give an actual dollar, I thought
Now, it has been a long time since this event, and
both of us have since moved on
Neither of us will ever, ever forget
The dates and the dimes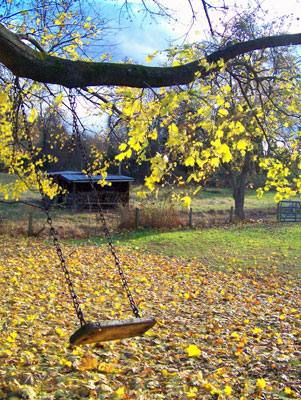 © Margaret G., Hillsborough, NJ