Starlight
April 12, 2017
Under the stars
A tree grows
A tree falls
Axed as lumber
Becomes a home.
And the stars
(Rise and fall but)
Never change.

In a wooden home
A child breathes his first
Cries an infant's shrill—
Becomes a boy.
Under the stars
And then a man.
(Rise and set but)
Never change.

Under the stars
A man conceives.
Gives life to forms
Resounding with rhythm
Of sawing, sanding.
(Smell the life-sap)
Molded with tender
Love. a wooden doll
(Under the nighttime stars)

Rocked by a child
As an old man
(Between wooden walls)
Breathes his last.
A doll who carries
The music of the saw
The swaying of the treetops.
Rocked by a child as

A wooden house slowly
Crumbles, under the sightless
Unchanging gaze of nighttime
Climbing, descending stars.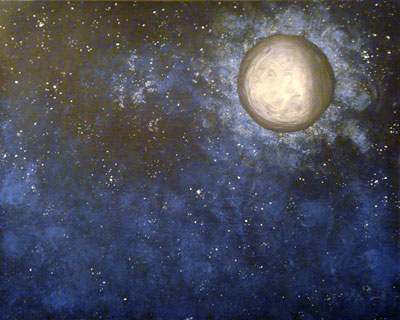 © Allison H., Vancouver, WA