Wings Beyond Pigeons
July 17, 2017
Reminiscing the war-torn days of the clouded past,
Washed with red gore and merciless memories,
Striving to revive what once was owned;
Like dolorous darkness absorbing the silver light.
Bonds more precious than mere diamonds,
As the dear father that he unbearably lost
At the gruesome hands of the cold-blooded war
That perfunctorily drinks off lives by the score.
Curled up by the dreamy lanterns,
Warming his fingers paralysed by the cold grief,
Fantasized he of an unearthly world,
Where men exchanged radiant smiles at confluences,
True from the virtuous hearts holding no stains;
Children chirped like the sugar-soaked honey;
One backing the other like the comrades at sea;
Where souls worshipped love as the ubiquitous god:
The powerful force that binds us like stars to the sky.
Free of the cruel perdition of vengeful battles;
Stitched taut with the thread of selfless devotion,
Within borders that survived only in paper maps.
White flags alone present no refulgent magic;
Time to spread our wings beyond pigeons, he thought.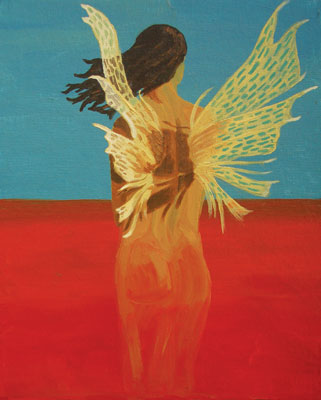 © Allison F., Langhorne, PA