pressure of society
November 17, 2017
He holds my bleeding arm
"do it" he says
I will resist
He cuts my arm
"do it" he growls, his voice fulled with venom
I will resist.
Cuts slice my body in pain
"do it" he yells, all patience gone 
No.
I am in pain.
I am hurt.
I will relent.
I will not .
I am weaking.
My reslove is breaking.
Fire burns through me as another gash opens up, deeper this time.
"do it, join me"
I break.
I can not fight any longer.
I take the easy option.
"okay..." i just barely breath out through the pain
"Welcome to society darling" he whispers as
 a chain attaches to my limp ankle
 and im put into a cage.
I have joined him.
I have done it.
I am now a member of society
I am free, in my cage
I can move, where my chains allow
Every day, i panit myself to reflect others
And others paint themselves to reflect me
but now i am nothing.
I am gone.
I reflect nothing.
Others reflect nothing.
We are reflecting nothing.
We are nothing.
Surely now that i have lost everything of importance
and gained everything of unimportance,
Am now ready to join society.
I have joined society.
I am society.
"do it" I say
She will not resist me
I slice her arm
"do it" i snear into her ear
Pain washes over her young face
She must not resist me
She is weak
"do it "
The blade cuts deeper this time.
She has given up.
"okay..." she breaths in painfully
I clamp a chain around her limp ankle
And close her into her new cage.
"welcome to society darling" i whisper as i hand her
A bucket of paint,
A pair of scissors,
A distorted mirror,
And incomprehensible ideals.
Just as the permanent lock click into place.
I walk away
I have won
I am society
And youre my next victim.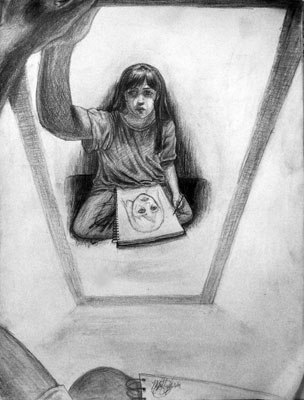 © Phyllis S., Far Hills, NJ