A Prince and His Princess
January 5, 2018
Running through deserts that blistered,
Climbling over mountains that towered,
Forging through rivers that glistered,
A dashing prince, at which stress devoured.
Clad in blazing reds,
Covered in brilliant golds,
Dressed in silks and satin that turned heads,
Yet weighed down by worry, as his story unfolds.
He'd received urgent news:
His princess was dying.
He'd left immediately, no time to lose,
His racing thoughts said it all, not lying.
His princess, his everything-
The one who showed him it was okay to cry,
The one who gave him his wings, 
And told him to spread them and fly.
Pierced by sharp knives of worry,
Sadness and desperation,
He shook away tears, his only thought: hurry.
As he gritted his teeth in determination.
He wished the news was a falsehood,
Hoped it was not what he thought it to be.
And maybe he could
Make it in t... i... m... e...
Everything was moving at a faster rate,
But the prince seemed to slow.
A fierce battle against time and fate, 
The outcome, he did not know.
Finally, with his heart pounding loud like a waterfall,
Home was standing in front of the prince,
A house, modest and small,
Gone eighteen years, and he hasn't been there since.
He ran inside, his sword did he drop,
Knocked against the walls, ruining décor.
A suitcase and a laptop,
A sharp crack, spilling papers all over the floor.
It had changed.
The prince took no notice,
Rushing into the room,
Where she lay, his once beautiful lotus,
With shallow breaths, death approching soon.
By the door, the prince slowed,
At her bedside, barely daring to inhale,
He dropped to his knees, heart about to explode,
Eyes taking in every detail.
His extravagant clothes were cleared.
His golden crown faded.
A fancy suit appeared,
For a silk tie it was traded.
He had changed.
He reached out and took her
Frail, pale hand, afraid it would break.
Her veins were clear, no blur.
Her eyes closed; where they may never wake.
She had changed.
With tears in his eyes,
The former prince, vision blurred,
Through silent cries,
Whispered on word:
"Mom."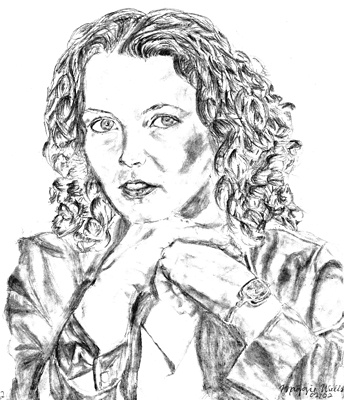 © Maggie W., Puyallup, WA