The Sun Sets
January 23, 2018
I. Mirrored Gaze
A smile dances on your face
Like a silver music box,
And I can't help but to grin.
Amongst all talk my eyes
Dart then prance
Avoiding the straight and narrow
But, with you
My eyes steel forward
Unflinching in their gaze
Mirrored in your eyes
Which are Mirrored by mine.
Our voices drop
To a whisper
Except for the
Occasional laugh;
When we speak
We are two squirrels running
Along the forest floor
Before soaring through the canopy,
Gliding from limb to limb.

II. Untitled Haiku #1
Lost myself in you,
I now know it is not true.
I can live myself.
III. Memento Mori
I remember the words I whispered,
In your ear.
I pull my hand back,
And I fear,
That Gravity is pulling my hand.
Gravity, unrelenting, draw back
The black running in drops.
The  gold dust, falls from my fingers
Turning into sand before it hits the ground.
My eyes closed, and my lips made no more sound.
I remember, remember the cold running it's finger down my Jaw;
It flies from my chin.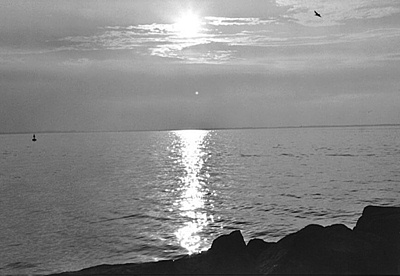 © Amanda L., Cumberland, MD