Similitude
December 16, 2013
I never believed that you would come,
A perfect combination of lemon and rum,
A fresh wine, brewed from the grapes of education,
Served for today's people and the future generation.

I never expected that you would be here,
To teach me to fight, the pen is my spear.
You gave me your armour for my every battle,
A metal of bravery, arrayed against struggle.

I never dreamed that you would be my protector,
A strong shield, hardened with knowledge and valour.
You ignited my soul with your glowing torch of fire,
An endless blazing beacon of hope, a reason to aspire.


I never imagined that you're fearless yet meek,
Educating me to read, to write and to speak.
You inspire me, guide me and direct me to a path,
A way to a bright tomorrow which we are starting to craft.


I am very proud that you're the best word:
"Teacher", "mentor", "molder" in this world.
If only I could reward all of your noble deeds,
I would carve you a monument of a hero who leads.

Along my journey to the path of excellence,
Your legacy lingers and fills up my existence
And if the day comes when I could harvest my pasture,
It's because you're the farmer who cultivated me and nurtured.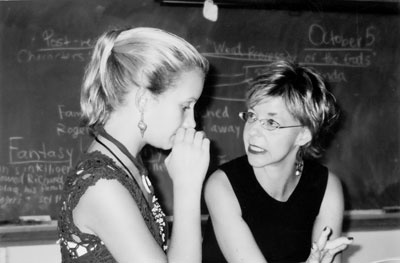 © Olivia L., Pompton Plains, NJ