Outside these Walls
July 15, 2014
s a prisoner in your cold jail cell,
surrounded by grey walls
barred into the claustrophobic cubicle.
I yanked at the cool, metal bars,
my fingers numb,
struggling to hold on,
yet yearning to be free of the restraint I felt;
so captivated.

It took months -
days upon days,
hours upon hours,
and minutes upon minutes -
until my added strength was finally enough
to loosen the foundation of the bars that held me in,
dug so deep into the hard, CONCRETE FLOOR.
But one by one, I pulled those metal rods from the ground,
and after countless weeks,
I ran, free.

My first steps of freedom tasted like fresh air and early-morning rain,
my bare feet hit the soil, and the dirt began to gather underneath my toenails.
I could feel the Earth moving around me for the first time in forever.
I let the wind whip through my hair as I ran senselessly,
looking for an opening to see the clear sky.
I had been living in a hole for too long a time.

I reached the end of the jail;
I arrived at the prison gates.
I closed my eyes, awaiting my future out of your grasp.
I wanted to open my eyes and never look back on my captivity.
Little did I know, captivity had its perks.

I opened my eyes and stepped out,
staring up at the clouds, dark grey,
covering the sky above me,
shielding the sun like knights do a king.
I didn't expect to be reminded of my prison cell even when I left,
but everything I see reminds me that you are no longer protecting me,
no longer holding me captive.

I never realized that, maybe,
the cell wasn't to keep me in,
but to keep the world out,
and save me from harm.
The CONCRETE WALLS gave me warmth when the nights were cold,
and the bars gave me protection.

Even when the icy bars of the cell bit my fingers
and laced my skin with a cool frost,
it enabled me to feel something.
It was so strong.
It made the blood in my veins pump faster,
and my heartbeat deeper and heavy.

Now, with the feeling of the entire world at my toes,
I can feel everything -
all the creatures that walk the soil,
the air that hits the back of my neck -
and yet, it means nothing.

It is worthless - meaningless.
I can sense everything,
and yet everything is nothing to me anymore
because the little that captivity within you made me feel was so real
that no sensation could ever come close to it again.

So now, I am left to ponder:
if I were to do it all again,
would I choose freedom over captivity?
Would I tear those bars out of their firm foundation,
one by one,
detaching myself from the prison you were to me?
or would I hold on to the metal,
letting the cold from them rush through me,
never letting me go,
staying within those walls of grey for the minutes upon minutes,
hours upon hours,
and days upon days that forever would come?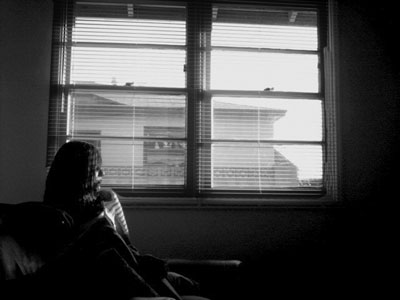 © Roxana R., Tustin, CA