The Lovefare Project, the Death Experiment, and the Solace
January 7, 2010
I am tempted always.
The tunnel,
That leads to nowhere quickly,
Takes me on a journey,
Of what I've abandoned,
I'm dragged back to it,
Kicking and screaming.


Love is an incomplete project,
It took a toll on me,
Bitterness, a side effect,
Brought me down to size.
Burning across my skin.
Now I'm back to the rushing blood,
The side effects of loneliness,
The soft touch of it streams down her face.
Water so deep I nearly drowned.

Love is war,
The easiest way to die.
Broken men do not have a battlefield.
We fight anywhere, everywhere.
In our hearts,
In our minds.
I have seen death,
It has come for my friends but never me.
Now you?
I don't fear the Reaper,
But he seems to fear me.

I've looked into your eyes,
I've been lost to the hazel abyss.
Come save me, my love.
Shut those eyes, forever.
Take his hand,
and he'll carry you off.
Kiss gently,
One last time,
One last time.
Go to the Father.

I shift my eyes when I see you,
I can't feel pain again.
I can't talk to you,
I can't take the words anymore.
I have created a monster,
And now I just want you dead.
I love a prototype,
But I can't discard you.
I adore a demon,
Selling my soul to love,
A war I can't win.
The Reaper waits,
Sitting in his corner of light.
Don't let him wait,
Don't speak,
Hush,
Not to me.
I can't save you now.

I am the gun to your head,
And you're one to mine.
I am the one you never think of anymore,
And you are all I want.
Your crocodile tears boil on your face,
They have died in the presence of your escort.

Love and war go hand in hand.
Skipping down the road,
To the land of fear.
Love is an incomplete project,
Pending from the work of God,
He never got the chance to finish,
So he's sent the job off to me,
An unprepared fool.
I am not one to handle such a matter.
Insanity has taken my mind,
And your beauty has taken my breathe.
And I can't stand the way you are,
The way we'll never be.

So I pull the trigger,
Release the dogs,
Give the Reaper his prize.
Get rid of my madness,
And my joy.
The light dims from the room.
He is gone, and so are you.
I am alone again.
I have failed for a second time,
Relapsing back into the state of darkness,
Where I am most comfortable.

I get solace from the embrace of darkness,
The only girl I know to never leave me.
She's the one I need,
And she never lets me go.
Though I am never rid thoughts of you.
Everything burns in this zone of the creature in my heart,
And the quiet screams,
Everything.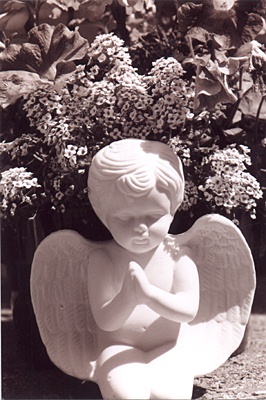 © Laurie T., Hopkinton, MA