My Eyes Are Closed, My Mind is Open
January 29, 2010
In that wasteland fairytale,
We spoke of times forever.
When you look into my eyes, what do you see?
What am I made of?
I'm gonna show you things never before seen.
The complex story of a teen.
A horror show that makes Dracula hide.
To these promises, I'm tied.

Don't push me away,
You're already distant from me.
I look out in the dust,
And you disappear from sight.
Love: A drug, so sad that I'm hooked.
I crave it, but when it doesn't present itself,
I'm thrown into withdrawel and I start to miss you.
Maybe I need to be addicted to the Lord,
He would never let me down.

In that wasteland fairytale,
Would you be with me?
Even if there was no happy ending for us?
Love comes in a pair,
Hand-in-hand.
The good with the bad,
The smiles and the tears.
Someday I'm gonna figure out how to mix them,
Tears of joy.

An alternate reality,
Where you love me back,
And we shine together in the moon's light,
Where it doesn't collide with the sun,
But you'll never love me,
So they do crash,
And we're blinded by the shock,
Worse than a surprise peck on the cheek,
Innocence lost.

In that wasteland fairytale,
I pray in the streets.
Oh God, where are you?
Can you hear my prayers?
This girl is killing me,
And I'm letting her.
Giving up isn't my nature,
But neither is self destruction.
What do I do?
My eyes are closed,
My mind is open.


I stand in my suit and tie,
You, in your black dress and black bow.
The same color snow comes from the sky above us,
And we fulfill our dreams,
Marry under the dead sun and moon,
Who loved one another as well.
The tragedy of the stars.
God said never open your eyes,
And always keep your mind open,
I'll be the man behind the curtain, my son.

Trust me,
Trust me.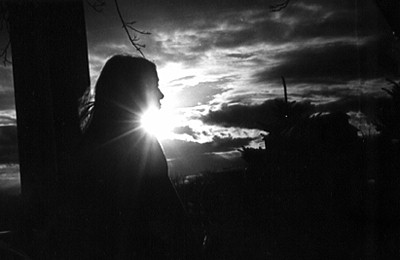 © Elizabeth G., Marblehead, MA