Strings In My Showcase
June 12, 2017
Penurious cortege was the life's birth
Of my childhood in the nameless town;
Elegies danced through our pleading ears,
Down the depths of despair we drown.
A music sweet as the bees' treasury
Was our infinite ocean's never-found fish;
My tender fingers holding the strings:
The least of my great father's wish.
Commanded the virtual voice within me
To fortify the long-forgotten music castle,
"March ahead, Little Warrior," my heart spoke,
"Truthful and tireless as the tree's rustle."
Forthwith forwarded my yearning nerves
With the goal in chest, and sword of strings;
My vibrant feet scaled the farthest miles,
Defeating the foe of loneliness, and his gloomy wings.
Bearing the torch of the hard-won victory,
Treaded my steps into the dormant living,
Only to revive the lost memory of the music
That the birds from flower gardens bring.
As fresh blood flows through tired muscles,
Mellifluous notes suffused amidst the town's veins;
The mother's voice is to the baby's first,
As was the promising tone of my music's main.
Lights invaded the wrecked down city which
Now lay rocking in the cradle of melody,
Sleeping soundly like the thoughtless toddler;
Spaceless for bitter memories and sour tragedy.
The unquenchable thirst of my colossal family
Was a child's love for sugar and candy;
Silver strings from my personal showcase
Moulded tunes trough times desert sandy.
Stand I here, under the cool opalescent lights
With the energized guitar, that fed true harmony
To our bereaved souls, now paramount high;
Just my homely little town and this one-man symphony.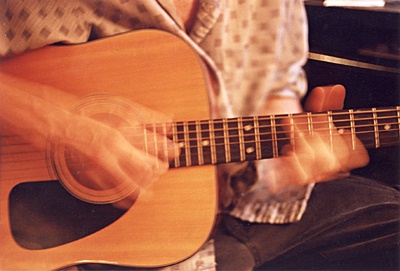 © James S., Philadelphia, PA