Emperor Eternal
July 5, 2017
Holding my little pink fingers in his strong hands,
Layered by lessons amidst turbulent times;
Resolved veins that water the blissful gardens
Of his forsaken heart, in its truthful rhymes.
His smiling face lifts me all mornings
To wonderful days and my worrisome ones,
Like the crimson sunshine is to the tireless dawn,
Revolving as a satellite, my little life runs.
A fiery warrior in the battlefield of destiny,
Fighting the ceaseless trauma like a lone troop;
The bravest soldier known to my young history,
Still, devoid of bends in our happiness loop.
He picks me up like the wind does the flower,
Gentle as the soft glow of the monsoon rivers,
Cradles me in his hands of perennial love,
Shielding me from the mid-winter shivers.
Uttering his words in caring whispers
To his favourite pet lying asleep;
Shedding tears on reflection of the innocence
In my contented eyelids, aeons deep.
Washing away my thoughtless fears
With his vigil eyes brimming with wisdom;
Drowned his soul in the oceans of my childish tears;
The undefeated victor of my golden kingdom.
The warmest hugs I received from his affection:
The heavenly abode that nurtured refuge,
Like the pollen encompassed in the pretty flower's petals,
Haven was his arms for my playful deluge.
His ethereal love is all the cosmos I know;
The insurmountable peak whose heights none scaled;
Never there was a soul that perched next him:
The only hero of all my fantasy epic tales.
Days and nights, he bears me with patience,
Unlike the illusive lot, he is truer than true;
My emperor eternal shall always stalk my corridors,
Oh, dear father, what am I without you?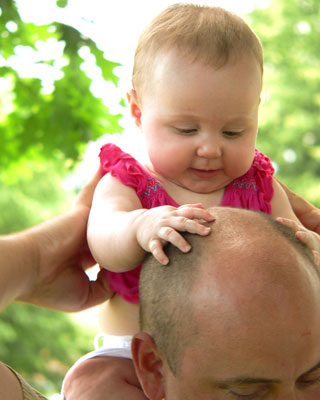 © Lukas D., Conway, AR